Wedding Limousines West Palm Beach
Weddings are special occasions, and special occasions require special measures in order to become memorable and last a lifetime! That's why Avanti Limos offers a Limousine service catered specially for West Palm Beach Weddings!
If you are a West Palm Beach Wedding Planner, get in touch with us! We can work alongside your schedule in your planning to make sure the occasion is perfect! If you are a Bride or Groom in West Palm Beach, and want this exclusive Limo service for your wedding, you are welcome too! We have many different vehicles on our fleet to cater to your Wedding!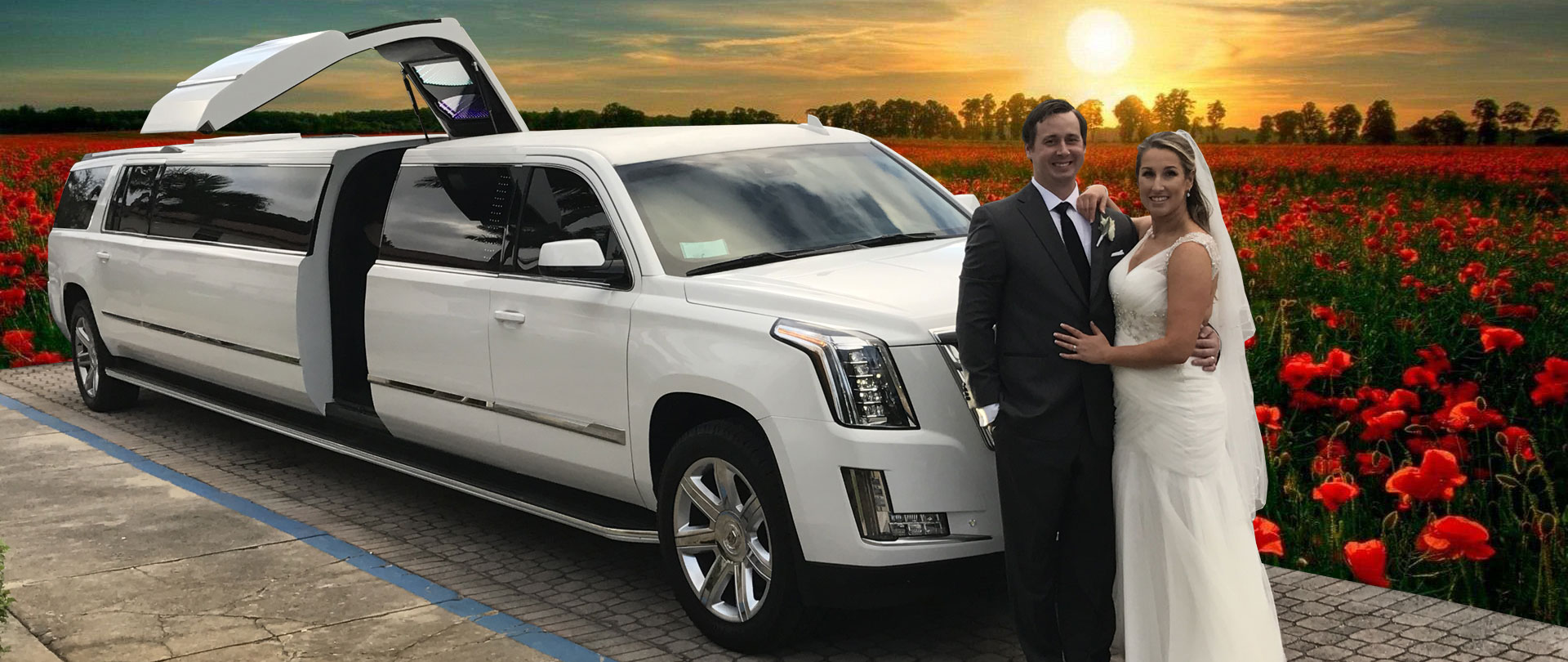 Packages Tailored to Your Occasion
Wedding packages are designed to fulfill the dream of each bride. Whether its rolling out a red carpet or helping to arrange your gown for that perfect picture, we are at your service. Packages are available for every aspect of your day. Luxury transportation doesn't have to end at your reception, flat rate transfers to your honeymoon destination, hotel or airport, are also available. Our convenient airport service alleviates the hassle of transporting your out-of-town guests, and post-reception shuttles ensure the safe return of your guests to their homes or hotels.
Tailoring our service to your dream is our priority!
Our wedding packages include the following: Red carpet service, Complimentary bottle of Champagne, Crystal Flutes and Glassware, Chilled soda and water, Formally attired Chauffeur, Just married sign. Our chauffeurs are highly experienced at servicing brides on their special day and our prepared to do whatever it takes to help things run smoothly. For weddings that include several out-of-town guests, we offer a large selection of shuttle possibilities, whether it be from a hotel to the reception or from airports to the hotel.
It's free to get information and contact us!
Use the form on this page to get in touch with us, and request a Limo for your Wedding! We have regular size vehicles, like Lincoln Town Cars, Luxury SUVs and we also have really sought-after Stretch-limos – the dream or every West Palm Beach Bride and Groom.
Taking the Stress Out of Wedding Planning!
Avanti Limousines knows how truly important your wedding day is and we are here to make that moment the most memorable one of your life. Arriving at your ceremony in West Palm Beach in luxury is the way every bride should be treated.
Vehicles range in several sizes to be able to accommodate all of your transportation needs. Wedding planning is quite a chore and can be quite stressfull, However we at Avanti Limousines are here to make one part of it simple and carefree. One of the best parts of preparing a wedding is planning your bachelor/bachelorette party! By hiring one of our beautiful limousines for your bachelor/bachelorette you are making sure that everybody has an amazing time and no one has to be the designated driver. Party till the wee hours of the morning knowing that you and your party are going to arrive back home safely and comfortably.